AK9 Athletic Academy - ak9singapore
Connect With AK9
Contact AK9
AK9 Sections
About AK9 Athletic Academy
New Classes/Registration
Obedience
Agility
AK9 Home Boarding
Testimonials
Dog Walking/Others
Jumpers
Profile of AK9 Founder/Trainer
Achievements
What's New
K9 ShowBiz©
Dog Dancing
News Flash
AK9 Photos & Videos
AK9 Dogsports CLUB
AK9 Partners
AK9 Pet Store
Thank you
AK9 Favourite Links
Videos
To train a dog, you've got to think like a dog. So the dogs wrote a song called "Life's a Game" so people would understand... ...like the lyrics say: "...Teach me the game called Sit & Stay,. I'll teach you to chase your blues away. I can learn anything that you want, as long as you make it game...." Many thanks to the fantastic musicians who donated their time and talent to bring our "Dog Songs" to life. They're our Best Friends because they really know how to PLAY! Special thanks to all ...
Speak To AK9
AK9 Athletic Academy
Is Now Known As
SuperNova Academy Of Dog Sports
The Preferred Dog Training Academy In Singapore

(Co Reg No: 53126748B)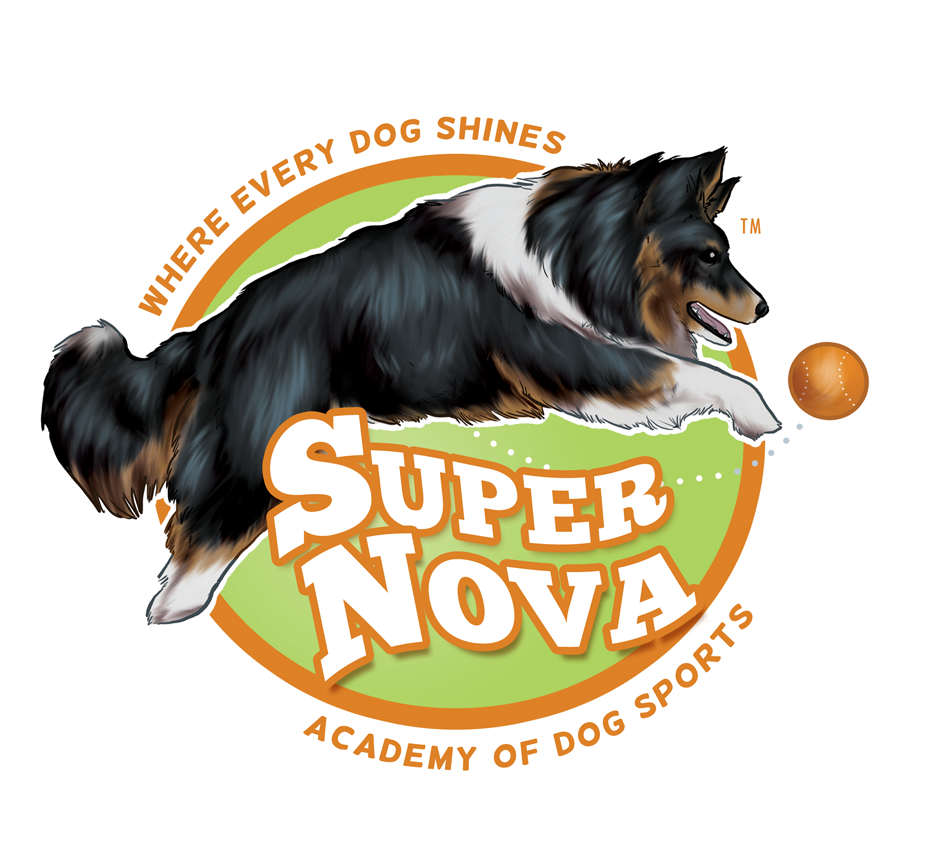 What's Happening @ AK9 ??
What Is APDT ?
AK9 strives to work towards the Vision & Mission of APDT (Association of Pet Dog Trainers) in all our dog training programs.



Vision of APDT:


All dogs are effectively trained through dog-friendly techniques and therefore are lifelong companions in a relationship based on mutual trust and respect.



Mission of APDT:


Promoting caring relationships between dogs and people by educating trainers in canine behavior and emphasizing professionalism and reward-based training.

Therefore, the APDT hereby defines dog-friendly as used in our mission and vision statements to mean:"Dog-friendly training is training that utilizes primarily positive reinforcement; secondarily negative punishment, and

only occasionally,rarely, and/or as a last resort

includes positive punishment and/or negative reinforcement."

More infor: http://www.apdt.com/
Donation to A.L.L (Animal Lovers League -- a local animal shelter )
AK9 will continue to donate $20 to Animal Lovers League for every dog owner who signed up with us.
AK9's January Donation: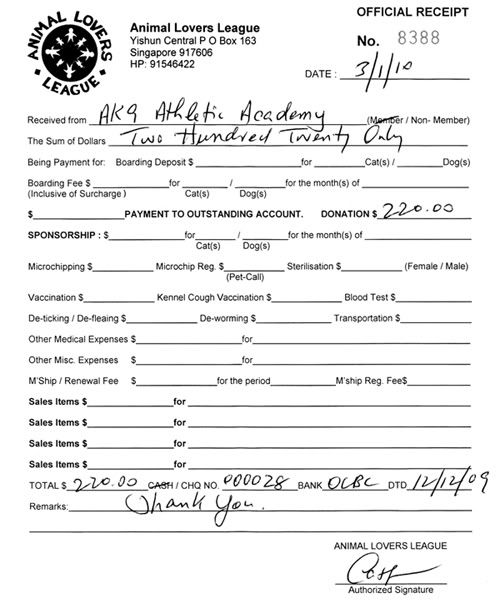 Congratulations to Nova @ the SKC Agility & Jumpers Trials
Congrats to Nova & Shanice for achieving the Jumper Dog Excellence (JDX) title at the SKC Jumpers Trials !! Nova is the 1st dog & only sheltie to achieve the title in Singapore.
Nova also achieved 2nd placing for SKC Open Agility & Open Jumpers trials on 14th Aug 2010.
Congratulations to Nova for achieving the USDAA Versatile Dog Title
Congrats to Nova & Shanice for being the 1st dog and team in Singapore to achieve the "Versatile Dog Title" from USDAA.
Featured pictures
AK9 unconditionally apologises to APAWZ (formerly known as APW) for any wrong impression that may have been given to anybody as a result of AK9's posts in AK9's website and in facebook.

Latest News !!
Nova's results @ 8th USDAA Trials ( 11-12 Sept 2010):
1)
Standard Advance Agility (Gold),
2) Standard Starter Relay (Bronze, Q),
3) Standard Starter Snooker (Bronze),
4) Performance II Agility (Bronze) &
5) Performance II Jumpers (Bronze)
_____________________________________________________________________________________________
Congrats to Shanice & Nova for Achieving
the SKC Prestigious Award
"Agility Dog Of The Year 2009"


"My Dog Does What I Tell Her To Do,
Because She Simply Loves Doing Them,"
Shanice, Founder & Trainer of AK9 Athletic Academy (AK9),
Trainer of "Agility Dog Of The Year 2009".
© 2008 - 2010 All Rights Reserved
AK9 Athletic Academy
Related Pages
ak9singapore
About AK9
Classes & Registration
Obedience
Agility
Home Boarding
Testimonials
Dog Walking/Others
Jumpers
AK9 Trainer
Achievements
What's New
K9 ShowBiz©
Dog Dancing
News Flash
Photos/Videos
AK9 Dogsports CLUB
AK9 Partners
AK9 Pet Store
Thank you
4/23/2014 4:27:39 AM