December 21

Ben Johnson wore a white straw "genuine Panama" Stetson hat in The Last Picture Show
. Today that hat is in the care of Doug O'Neal, first cousin once removed of Ben's wife Carol. Doug has a page for Ben with some great family stories and photos -- you can visit it
HERE
.
He also
shared some recent photos of Ben's

Last Picture Show

hat, including one of him modeling it, and also sent along two pictures of plaques for awards presented to Ben. Thanks for the great pictures, Doug!



Doug with Ben's hat from

The Last Picture Show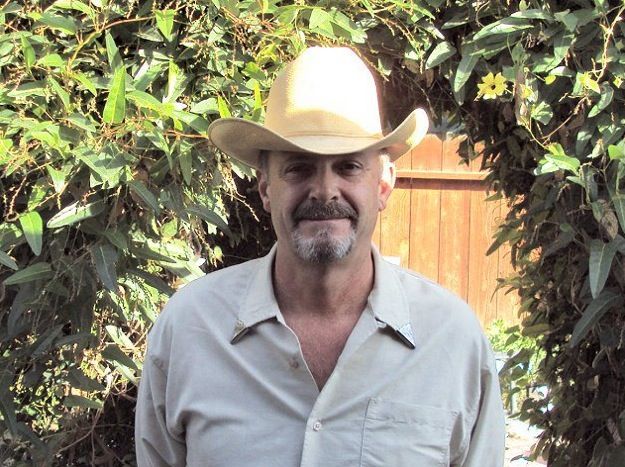 Two close-ups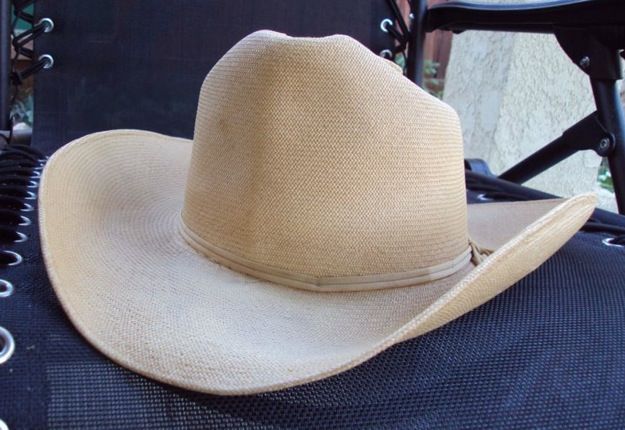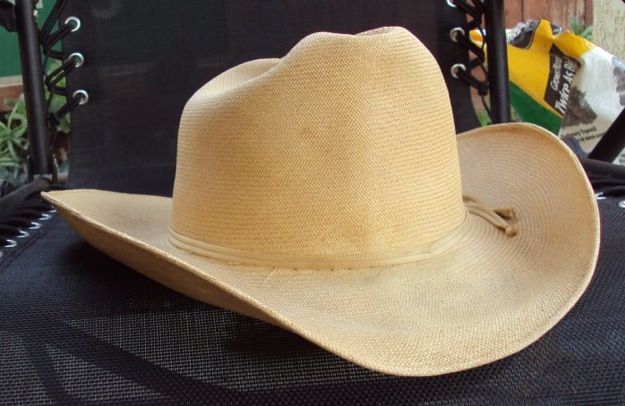 Plaques of two awards given to Ben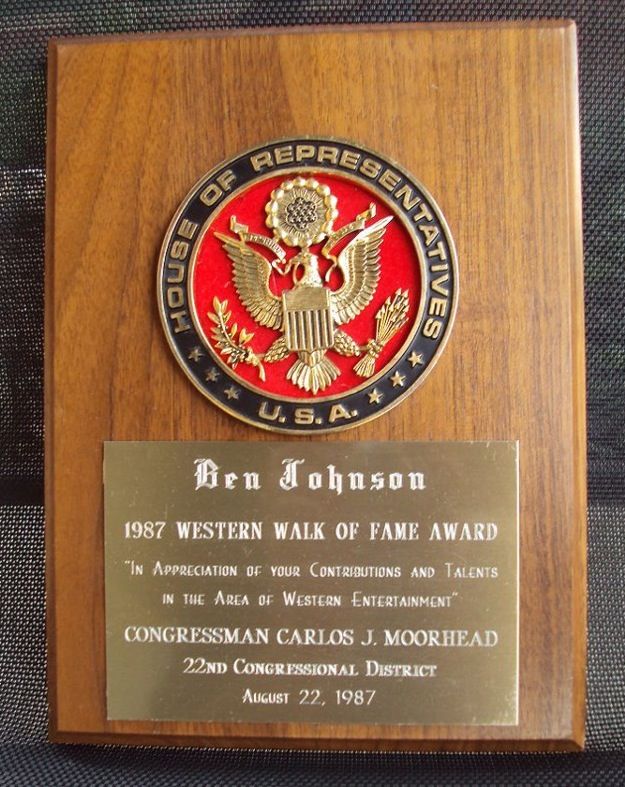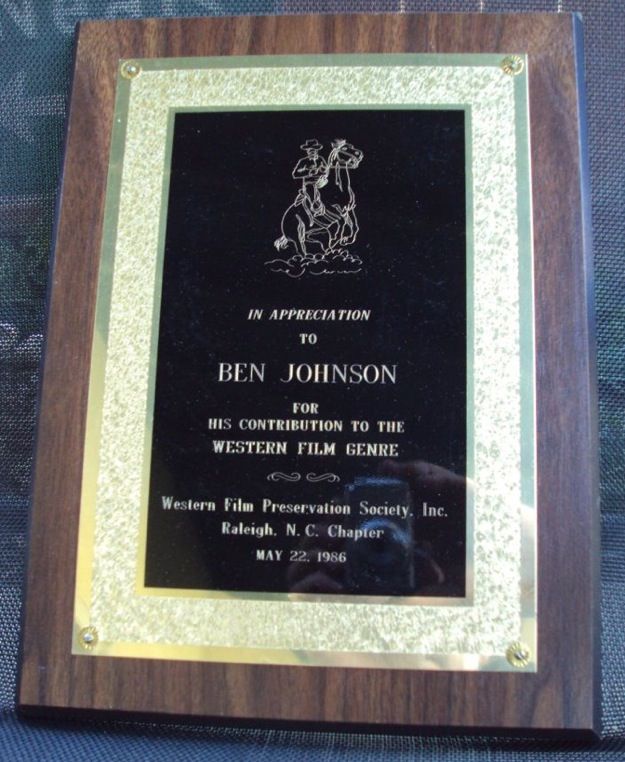 Thanks again, Doug, for the wonderful pictures!

December 20Just added:
A publicity picture from
The Last Picture Show
, in the "Photos, Lobby Cards, Etc." album in the
Memorabilia section
.
"God, he was beautiful," says Bogdanovich, who goes quiet for a moment, remembering his face. --
New Statesman Interview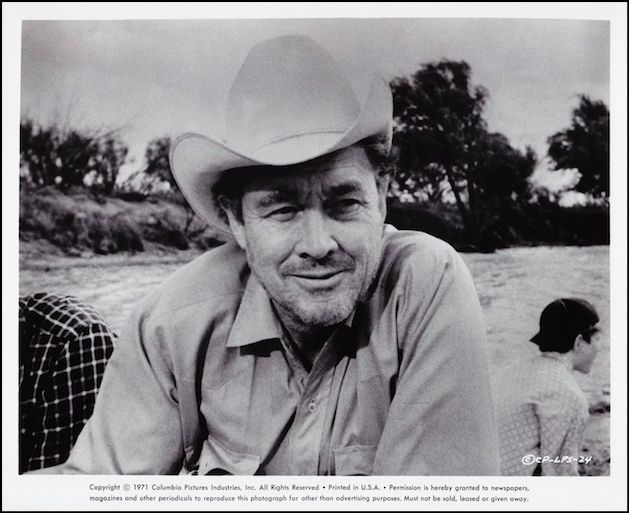 Some quotes from a retrospective by Don Graham about the filming of
The Last Picture Show
in the February 1999 issue of
Texas Monthly
. Ben's quotes are taken from an interview he did with Ronald Davis for the
Oral History Collection on the Performing Arts at Southern Methodist University
.
BEN JOHNSON [on his big scene at the stock tank]: I'll tell you why that was pretty easy for me: My growing up on those old ranches. I have seen those old cowboys outgrow their usefulness, get old and try to retire and move to town. Well, it never works. And in my growing up I had seen two or three of those old guys who was worn out and wanted to retire but just couldn't. So that's the way I created my character...But what made that scene work, [was that] this storm came in and the waves on this lake kept coming up and finally they white-capped. And the eerie background in that scene, I think is what made it work as well as it did.
[Bogdanovich] got out of the car, and he came over there to me and said, "Ben, do you know your dialogue?" I said, "Yes, sir." He said, "Do you mind running it?"...We ran it one time, and he told the camera guy, "Set the camera up right there." And here's this storm, it's rolling in all the time, and a drop of rain once in a while, and the wind ablowing and the waves coming up. We sat down there on that log and we got it the first rattle out of the box.
PETER BOGDANOVICH: Tex [Ritter] wanted to play Sam the Lion; he was sort of the runner-up for that. And he would have been good. I thought Ben was wonderful, though. Ben turned the picture down four times. I finally got John Ford to call him. Ford told him, "What are you gonna do, be Duke's sidekick the rest of your life?" Of course, Ben called me after that, and he said, "You put the old man on me." I said, "Ben, I really want you to do this." "Oh, Pete, I don't know," he said. "There's too many words in this picture. There's too many words." I told that to Ford, and he said, "Yeah, he always says there's too many words. He said there was too many words in
She Wore a Yellow Ribbon
. He just likes to ride." Finally, in the last meeting with him, I said, "Ben, you don't understand. If you do this picture, you're gonna get an Academy award; you're gonna get a nomination at least." When I said it to him, he got angry. He said, "Why do you say that?" And I said, "Because I think so." "Goddammit," he said. "All right. I'll do the goddam thing."
From
Whatever Happened to Orson Welles? A Portrait of an Independent Career
, by
Joseph McBride
:
Welles thought there was too much sex in the script Bogdanovich and McMurtry had written for
The Last Picture Show
. But Welles coveted the role of Sam the Lion, the grizzled owner of the local pool hall and diner who serves as a mentor to the local boys and embodies old-fashioned cowboy chivalry. Welles told me, "Anybody who plays that role will win an Academy Award." But Peter [Bogdanovich] said, "I didn't want a movie star in the role." Instead he cast the veteran character actor Ben Johnson, whose weathered face spoke volumes about western values and his own sense of disillusionment. Just as Welles predicted, Johnson won the Oscar for best supporting actor. Judging from the hammy southern accent and makeup Welles used in the 1958 Faulkner adaptation
The Long, Hot Summer
and his remoteness from the kind of simple dignity Sam the Lion represents, his casting might have ruined Bogdanovich's film singlehandedly.
Director
Sam Peckinpah
's opinion of
The Last Picture Show
ran counter to the critical acclaim. This is from an interview with William Murray that appeared in the August 1972 issue of
Playboy
magazine and was reprinted in
Sam Peckinpah: Interviews
. I beg Mr. Peckinpah's pardon for bleeping some of his language but Shutterfly is a "family" site. I definitely agree with him about
Two Lane Blacktop
, which happily
Criterion will release on Blu-ray and DVD on January 8
.
PECKINPAH: I think the role of the critic is very important to films, and that's why I get so goddamn angry when the critics don't pick up on good films and go along with bulls---, as they did on Bogdanovich's film,
The Last Picture Show
, which was a crashing bore, and ignore something like
Two Lane Blacktop
, which I thought was a potential work of art.
The Last Picture Show
was artsy-craftsy, jacksy-offsy and a real pain in the ass. I was supposed to have dinner one night with Ben Johnson, who was superb in it, but I knew Peter would be there and I'd have to hit him right in the [f-word] mouth, so I didn't go. I really hated that film.