Paula's Movie Page - paulasmoviepage
Featured pictures
Welcome to Paula's Movie Page!
February 14, 2011

Er, Happy Valentine's Day... I think! Because today is the beginning of the For the Love of Film Noir blogathon, and hearts and flowers and true love undying and all that sweet stuff is usually not the purview of noir.
And yet I didn't want to let Valentine's Day pass unremarked, and thus a movie that could be called noir romance immediately came to mind for screencapping purposes.
[Sidebar: Also for noir fans, we also have Nightmare Alley screencapped and you can find those albums in the Noir section.]
But first...more about the blogathon. This is the second (hopefully not the last!) blogathon to raise money to preserve our precious film heritage. Last year the funds went to the National Film Preservation Foundation; this year they will go to The Film Noir Foundation to help preserve Cy Endfield's The Sound of Fury (a.k.a. Try and Get Me).
So please pull out your wallet or your money clip or your purse, empty your pockets, and hunt under the couch cushions and check vending machines and pay phones (if you can find any) for loose change, and send what you can to the Film Noir Foundation. Here's the donation link again.
Now back to our screencap entertainment. The lights dim, the curtains part, you can hear that beloved familiar clicking sound of the projector, and the column of magical light beams through the theater onto the screen. In our Screencaps Theater, the audience knows there is NO TALKING allowed and they obey the rule.
Our show tonight (and for the next two weeks of the Blogathon) is On Dangerous Ground, directed by Nicholas Ray, a movie that starts out as pure film noir and ends up somewhere else. The protagonist is tormented big city police detective Jim Wilson (Robert Ryan), a former sports champion and all-American boy who still keeps a cross on his dresser.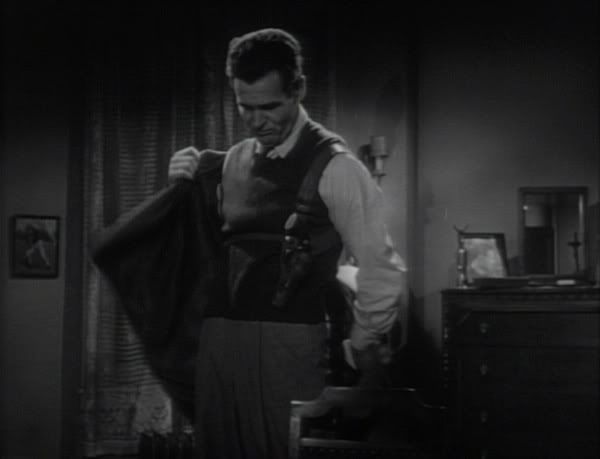 Jim's faith, though, has been lost along the way. He has become so burnt out by the thieves, prostitutes, cheats, bums, pimps and all around slimeballs he deals with every day that he is becoming completely unraveled. All he wants to do is punch out their lights.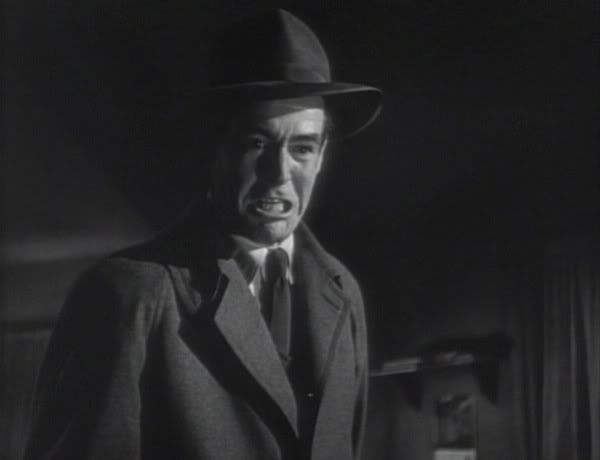 And punch them out he does. His partners usually exit the room, then come back and act all surprised to find their suspect is in bad shape. But one time he goes too far and beats up a thief and woman-abuser so badly the man has to be hospitalized.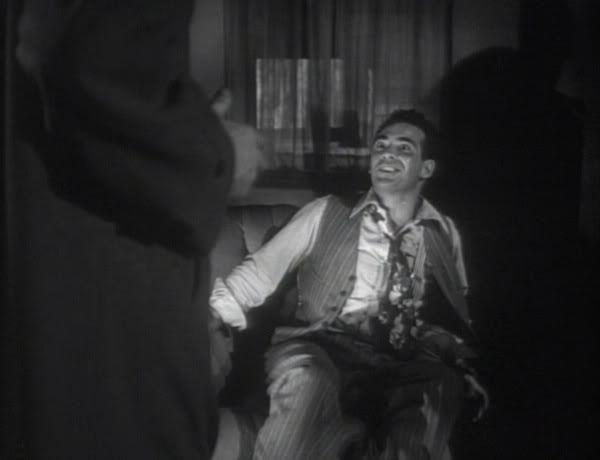 Jim's boss (Ed Begley) needs him to cool down, so he sends Jim off to assist in a murder case in the wintry countryside.
This change in location, from urban space to the open country, doesn't mean that noir is left behind entirely; even in daytime the overall tone is gray, and not just because this is a black and white movie. Everything seems cold and drab and dim and muffled by the snow.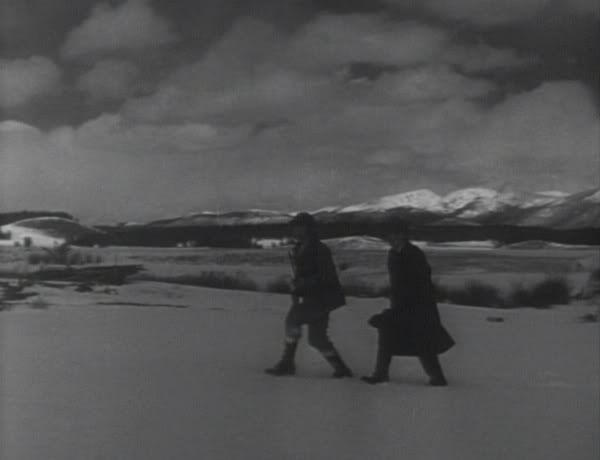 Jim and Walter Brent (Ward Bond), father of the murdered girl, trace the suspected killer to the house of Mary Malden (Ida Lupino), who at first says she lives alone, but it doesn't take long for Jim and Walter to figure out she is the suspect's sister.
Even in Mary's house, there are lots of shadows, ominous looming ceilings and and shots from noirish angles, and, of course, a staircase (isn't there always a staircase?) with incriminating men's clothing in a bedroom up on the second floor.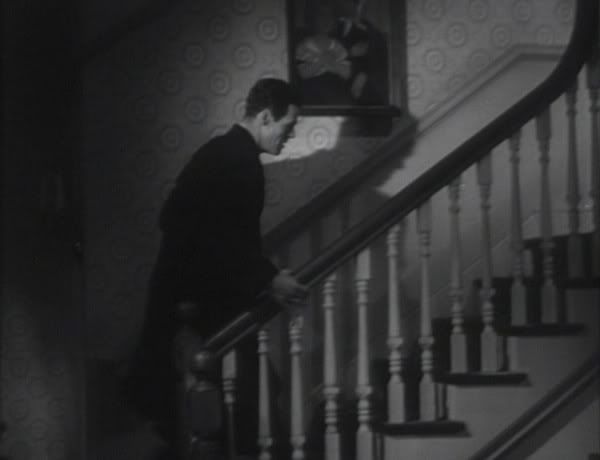 But despite the snow and cold outside, something thaws inside Jim when Mary makes him promise that her brother won't be hurt when and if he's caught. Mary is gentle and soft-spoken and her blindness brings out a hidden protective side of Jim. Blunt, aggressive Walter, and low-key Mary seem like two different aspects of Jim, who is struggling to maintain his humanity.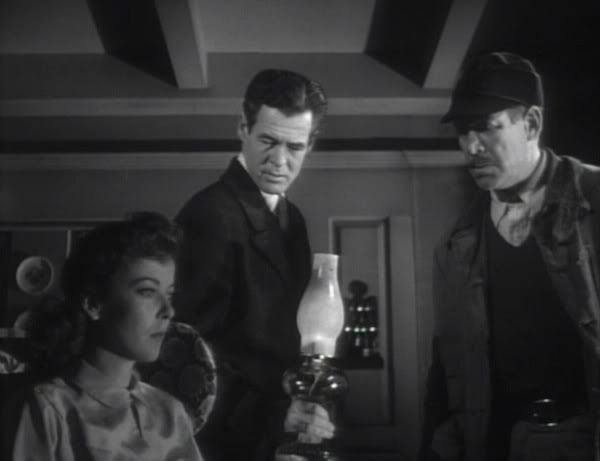 In case you didn't get the point...but it's not about religion, or even spirituality, it's about love, compassion and healing.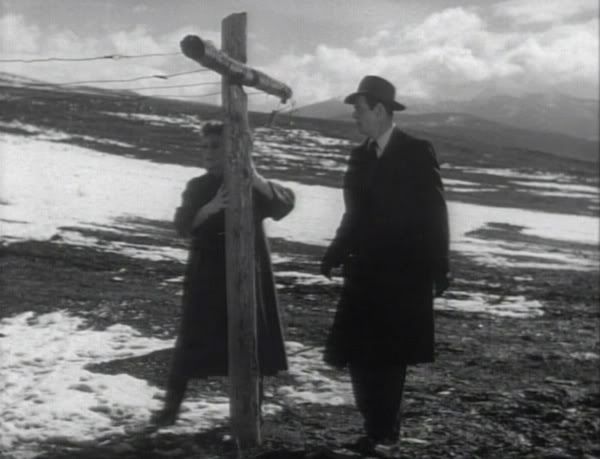 See?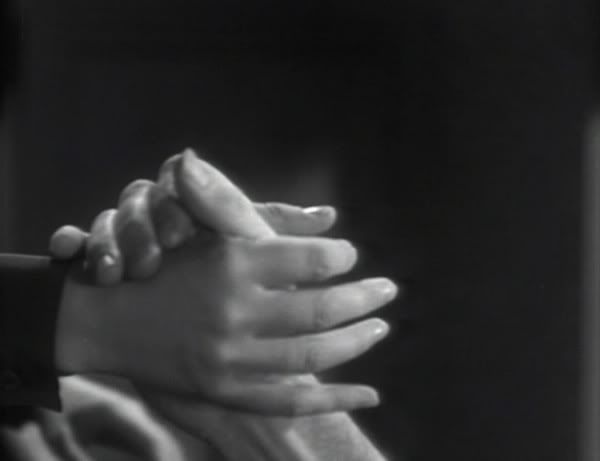 OK, some sex too.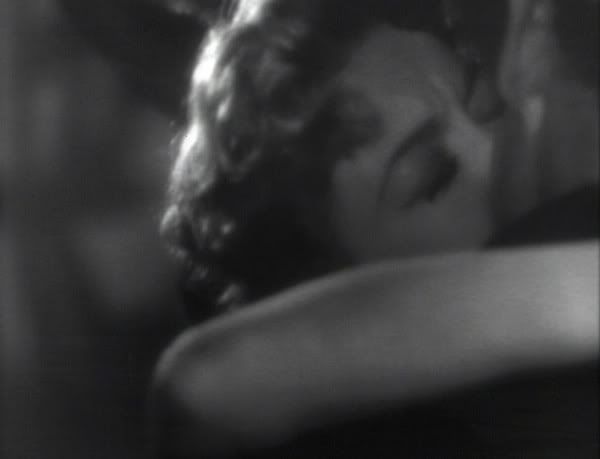 By the end, there are still a lot of shadows, but they're soft and there's a backlit glow around everything. The darkness isn't entirely gone but now it feels more comforting.
Glenn Erickson in his commentary on the DVD states that Nicholas Ray didn't like the "miracle ending" imposed by the studio, but you'd never know it, he shot it so beautifully. In other, less gifted hands, this ending -- Jim's return to the country and to Mary -- would seem like unbearable treacle, but Ray, with the sensitive performances of Robert Ryan and Ida Lupino, and the transcendent lighting of George E. Diskant, makes even fans of noir cynicism into believers of the healing power of love.
See all the screencaps in four albums HERE (or click on the "Noir" section at the top of the page.)
And if you haven't donated yet to the For Love of Film Noir Blogathon, please do so NOW. Thank you!
January 25
Check out the fabulous new website for Conrad Veidt at http://conradveidt.wordpress.com/
Pictures
TCM 2010 Festival Guide
Favorite Leading Men
Favorite Leading Ladies
Favorite Movies
Favorite Movie Couples
Favorite sites
Guestbook
8/9/2010 11:40:52 PM - 003047653134
I just joined two minutes ago, I think this will keep me busy with something to enjoy for quite some time to come, although I am not capable of adding photos, but I will happily see everyone elses.
5/16/2010 11:49:07 PM - 003033800104
Paula, I hope to get more time to cruise your site - LOVE IT! - Ann
Comments
Related Pages
paulasmoviepage
Drama
Noir
Westerns
Musicals
Horror
Silents
Adventure
Romance
12/6/2013 4:34:34 PM