By this business in All over the world where you can Invest Safely without any risk. We have here of the best Investment sectors in All over the world. There are many other sectors for investment but it will be the best choice for you. So make your right choice today and now Unaico is a form of business in All over the world as well as global. So think Business think Unaico-Sitetalk.
"Business by the name of ALLAH who has created you"
SiteTalk
is a social networking community like Facebook
where being active counts and your activities are rewarded.
Posting on the wall, making new friends, recruiting new members,
uploading images and video, keeping in touch with friends and family,
chatting, shopping in the mall, traveling with SiteTalk travel and other
activities related to SiteTalk. Its new world....Experience the unique and difference.
So…use …. SiteTalk…and…earn lots of money…….
It is a very great opportunity for us.
***Are You Lucky Enough…..?
Difference between SiteTalk & Facebook
SiteTalk
01. Free SMS to any mobile to any country!!
02. SiteTalk has Desktop Messenger !!
03. SiteTalk has Mobile Application !!
04. You can chat with any language on SiteTalk !!
05. You can earn huge money !!
06. SiteTalk has online Shopping mall and many more!!
Facebook
2. Facebook has no messenger
3. You can chat with only one language
5. Facebook has no online shopping mall
THIS IS THE BUSINESS WITH FULL EUROPEAN CONCEPT. Unaico Holdings Ltd. is the mother company and Unaico Ltd. it's one of the main concern and worked as service and marketing channel. It has headquarter in Singapore and corporate offices in UK, Germany, Latvia, Sweden, Spain, Slovenia, Hong Kong, Taiwan and Thailand. 16 offices in 10 countries world wide. Unaico is global and we have successful business partners and member in 200 countries.
Company's early days compensation plan
Unaico Holding Group Limited is the holding company with 18 subsidiaries at this time. Enigro was one of the Investors early 2009 in the start up of the company and the marketing company was also called Enigro until Unaico Ltd. was founded in summer 2009 and launched September 2009. The group of companies include Unaico, The Oxford Programme, SiteTalk. Unaico is working hand in hand with 37 experienced Law firms around the world to ensure the company is compliant with all regulations and laws. It is Unaico's ambition is to become one of the top 5 Social Network Providers worldwide. Membership to Unaico is handled through SiteTalk, a free Social Network Platform (SNP) that combines social networking with integrated services with an estimated 12 million members and 160+ employees worldwide
As a member of SiteTalk you are given access to a variety of third party products and services. The company is looking for DSA membership. Estimated Sales Revenue 2011
$80 – $ 100 million.
Unaico Holdings Ltd.
01. Unaico Ltd.
02. SiteTalk Social Community
03. Oxford Education Programme
04. SiteTalk Mall
05. SiteTalk ME
06. SiteTalk SIM
07. SiteTalk Gold
08. SiteTalk Coffee ( Join Venture with NesCoffee)
09. SiteTalk Mail
10. SiteTalk Travel
11. SiteTalk Vacation Club
Our Vacation Club
Holiday Plus Unlimited
12. My Holiday Rewards
13. Salome Skin Care Product (Unisex cosmetics product)
14. SiteTalk Game
15. SiteTalk Insurance
16. SiteTalk Real Estate
17. SiteTalk Medical
18. SiteTalk Care
SiteTalk Care is our active charity association works by corporate social policy world wide like red crescent or red cross
Unaico is branding SiteTalk by using/implementing 3 methods:
Traditional marketing, ads in Newspapers, billboards, buses. and have just
Internet Marketing.
Direct Marketing utilizing Unaico Limited
The company signed a contract as the main sponsor for the AC Milan football schools in Asia. This was done through an intermediate company called "Football for Life Ltd" Hong Kong.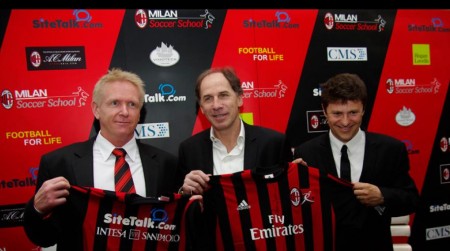 When someone registers as a free SiteTalk user he acquires at the same time a free membership/position in the Unaico business model. This position is classified as dormant until such time he/she decides to utilize the business model. There is no obligation to activate this at anytime. Unaico has over 6,000+ products including 2 "Advantage Packages" consisting of a number of products and services that the Free SiteTalk/Unaico member can purchase if he so wishes to do business. The advantage package offers a saving of approximately 30% against buying the products/services individually which anyone can do. ALL products have an associated BV (Business Volume). On the accumulated BV of purchases made from the SiteTalk/Unaico member directly in the shops commissions are paid according to the actual com-plan.
Sales are produced through direct purchases of products and services in the shops through the SiteTalk/Unaico members who are in fact the end consumer. Apart from: SiteTalk Travel, SiteTalk Gold, SiteTalk Coffee, SiteTalk Me(own Skype), SiteTalk Vacation Club, SiteTalk Sim, Oxford Programme, Salome Skin Care from Dead Sea the Holy Land of Jordan, SiteTalk Games.
SiteTalk is offering a binary compensation plan, at no time can anyone earn anything for recruitment. For all members to SiteTalk.com the registration is 100% free, at the same instance the STP member receives a FREE Unaico membership with zero obligations. A free SiteTalk user can activate his/her free dormant Unaico position by accumulating a certain number of BV (business volume). Each product in the shop has an associated BV value. A number of the products in the shop are third party, some joint venture and some are Unaico's own.
Upgrade: The starter package is EUR 149 ($216)
the bronze package is EUR 500 ($725)
The gold package is EUR 2,000 ($2,900) to purchase. Bronze and Gold Package contained reward for the member and that is called
OFC the fundamental/placement
share of the mother company as totally gift.Company decided to reward their business partner (upgrade unaico member) 49% share and keep 51% between the management body.
For transaction world wide company contact with Towah Bank. This is the number 1 Norway based online bank with 130 branches and 4 head quarters world wide.
Corporate leadership & Founders

From left to right: Jarle Thorsen – Founder, Dan Andersson – President, Rune Evensen – CEO, Thomas Nordlund – Training Director

Kenny Nordlund – Global Marketing Director

Steven Morley – Global Compliance Director

Frank Ricketts - Vice President

Haark Andreasson - Chief Operating Officer

Our Mission and Vision: To unify people and give opportunities for all
To be one of the top 10 companies within 2015
To dominate the whole world
We combining 3 world business method in to 1 platform:
01. Traditional Business Method
02. Online Business Method
03. Direct Marketing Method
We have used a powerful media to spread our business globally like no one have ever done before. We have used Social Media Network for our business platform and our media is SiteTalk social community that is very well featured then www.facebook.com.
1. Free SiteTalk active user SiteTalk Credit 5% (can be only on Unaico and siteTalk product and services)
2. SiteTalk Network Team Bonus On Binary Team Activity 10%
3. SiteTalk Network Team Bonus On Active User 10%
4. SiteTalk Direct Refer Bonus 10%
5. Generation Bonus 25% (Level 1-7)
6. Unaico Ranks Award
7. Life style award
8. Stock Market/Share Bonus