Caseyville, IL VFW Post 1117 - vfwpost1117
Featured pictures
Pictures
Flag Retirement Ceremony 2013
r22.jpg
r22.jpg 2013-10-27
r30.jpg
r30.jpg 2013-10-27
1.jpg
1.jpg 2013-10-27
4.jpg
4.jpg 2013-10-27
r41.jpg
r41.jpg 2013-10-27
r40.jpg
r40.jpg 2013-10-27
8.jpg
8.jpg 2013-10-27
10.jpg
10.jpg 2013-10-27
r34.jpg
r34.jpg 2013-10-27
r32.jpg
r32.jpg 2013-10-27
r39.jpg
r39.jpg 2013-10-27
r38.jpg
r38.jpg 2013-10-27
r19.jpg
r19.jpg 2013-10-27
6.jpg
6.jpg 2013-10-27
15.jpg
15.jpg 2013-10-27
r25.jpg
r25.jpg 2013-10-27
r42.jpg
r42.jpg 2013-10-27
r31.jpg
r31.jpg 2013-10-27
Webpage Links
Commander's Corner
Ladies Auxiliary
Men's Auxiliary
Vander Clute VFW Riders
Milo's Grill at the Post!
Events Calendar
Post Officers
Join The VFW!
Links
Pictures & Videos
Message Board
Rent Our Hall
Post 1117 Forum
Privacy Policy
Post 1117 Guestbook
Caseyville Cemetery Veterans
VFW Quick Links




Meeting Dates
MEETING DATES
Ladies Auxiliary Meeting- Third Monday of the month at 7PM
Men's Auxiliary Meeting- Second Thursday of the month at 7PM
VFW Riders Meeting- Fourth Monday of the month at 7PM
District 14 Meeting- VFW Post 1117 on Sunday, November 10, 2013. Luncheon begins at 10am.
Veteran's Day Ceremony at the flag pole. November 11, 2013 at 10am.
Veteran's Day Ceremony at Knollwood Retirement Community at 11am.
BINGO EVERY FRIDAY! Games begin promptly at 7PM.

Post Happenings
The October through December Post Newsletter can be Found HERE.
The July through September Post Newsletter can be Found HERE.
Seventy-fifth Anniversary Information
Comrades, Brothers, Sisters and Friends,
You are cordially invited to attend the 75th Anniversary of the founding of the Caseyville Memorial Veterans of Foreign Wars Post 1117. Ceremonies will occur on Saturday, September 7, 2013 at 2:00 PM at the Post Hall.
Festivities will include a complete luncheon, guest speakers and a display of military items collected by members over the years.
There is NO COST to attend this historic celebration. Please contact Commander Jim Bivens (Comrade Commander), Jeanine Bivens (Ladies Auxiliary President), or Kent Leubbers (Mens Auxiliary President) if planning on attending. Your RSVP is required by August 14th so that we may make necessary food arrangements.
The Post is seeking military items: Anyone having military items in their possession for a display during the ceremony should contact one of the above-named individuals by August 14th for more details.
Please plan on attending this historic event and celebrating our VFW Post's seventy- fifth year of providing service to our veterans and community.
Thanks and take care,
Tom Clark
Post 1117 Comrade Chaplain
VFW Riders, Smokey Bones and Tim Ezell... What a combination!


Read the March 2013 Post Newsletter On Line!

Memorial Day 2013
The Memorial Day weekend began bright and early Saturday morning with Comrades, Ladies and Men's Auxiliary members, and guests assembling at Caseyville Cemetery to place flags at the headstones of our fallen.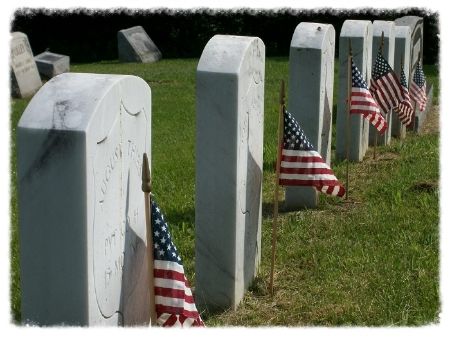 Memorial Day was somber yet up-lifting as Comrades, Ladies and Men's Auxiliary members, and guests arrived at the Post to pay respects to our fallen Comrades. A short grave-side service followed in Caseyville Cemetery. The weather was beautiful and all in attendance agreed that it was a good day to reflect on the sacrifices made by our fallen in defense of this great country.

CANNED GOODS and NONPERISHABLE FOOD NEEDED!
An on-going project of Post 1117 is providing material and monetary support to the Caseyville Area Food Pantry. Post 1117 recently made a $500.00 cash donation to the pantry (Half of the $1,000.00 raised through Post 1117's recent Poppy Day Sales).
The need continues to increase as citizens of Caseyville endure the economic downturn.
Please consider donating a canned good or non-perishable food item to this worthy endeavor. A canned good collection container is located in the small hall near the BINGO sign-in counter.
DON'T FORGET!
Every person donating canned goods receives a FREE first game of BINGO

Post 1117 Represented at Trooper Kyle Deatherage Memorial Service, 12-1-12
Members of the VFW Vander Clute Riders, based out of Caseyville Post 1117, and members of the Carlyle VFW Riders combined to pay respects and celebrate the life of Illinois State Trooper and Motorcycle Officer, Kyle Deatherage. Pictures of the Memorial Service can be found in the photo albums. Rest In Peace, Trooper Deatheridge.


VFW Vander Clute Riders "Out In Front"


On November third, members of the VFW Vander Clute Riders Group (VFWRG) paired up with Illinois and Missouri members of the Combat Veterans Motorcycle Association (CVMA) to conduct a joint mission to Jefferson Barracks Hospital. The mission began at the Scott Air Force VFW Post and incorporated about a dozen motorcyclists and another dozen vehicles in an escort across the JB bridge to Jefferson Barracks. Once at "JB", riders and supporters filed into the hospital, spread out across the wards and wheeled sick and infirmed vets to the gymnasium where everyone shared pizza, cake, cookies and, most importantly, comradship. The pizza was hot, the soda was cold and many war and life stories were shared. At the end of the event, our veterans were escorted back to the wards where warm handshakes and hugs were shared by all. Sincerest respects to those who made this event possible, the members of the CVMA and VFWRG for sharing our common mission of "Vets Helping Vets" and to the men and women veterans recovering at Jefferson Barracks Hospital. Please view some pictures of the event on our picture page.


Post 1117 Aug.-Oct. Newsletter
(Click the thumbnail to view larger image)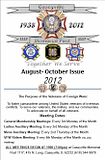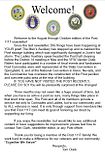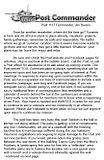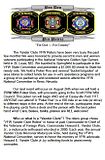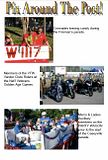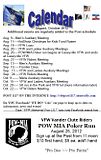 Post 1117 in the Caseyville Fireman's Parade 2012
/b>

Post 1117 Flag Retirement Ceremony
On behalf of the Post, I would like to thank all who helped make our flag ceremony go off without a hitch. We were able to respectfully retire almost 300 U.S. Flags.

March-June Newsletter is HERE!

VFW Vander Clute Riders of Illinois Raise Funds for Homeless Vets


The
VFW
Vander Clute Riders, sponsored by Post 1117, held a Homeless Veteran's Benefit at the post which netted a total of $811.00 which was donated to the District 14 Homeless Veteran's Program. VFW Riders Wayne and Debbie went beyond the call of duty to ensure a successful event. Additionally, the riders wish to offer our sincerest thanks for allowing us to serve the post and for the great turn out on an otherwise dreary Sunday afternoon.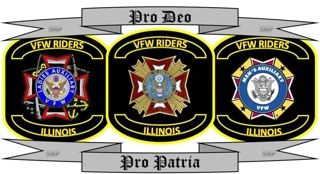 2011 Caseyville Fireman's Parade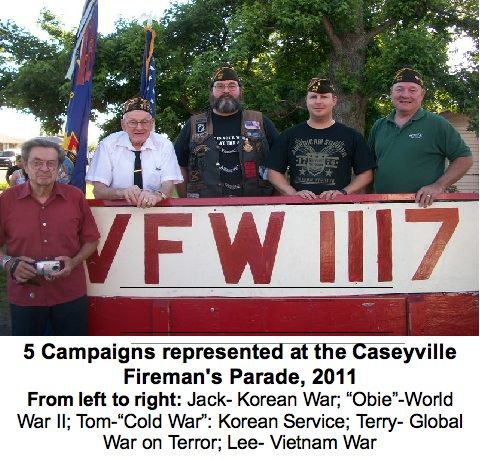 Post Installation of Officers
The May 16th meeting saw the installation and swearing in of officers for the Caseyville Memorial Post 1117 for 2011-2012. The installation was conducted by out-going Illinois District 14 Commander, Jeff Hastings and assisted by in-coming Illinois District 14 Commander, Rich Shulte. After the meeting, the Ladies Auxiliary put out one heck of a spread for the guests and attendees.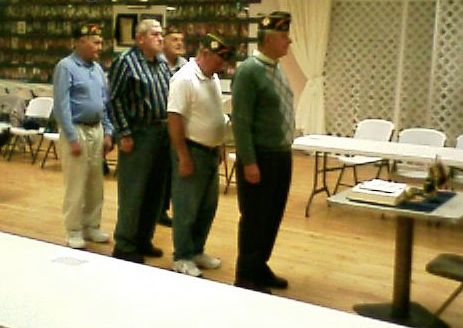 Standing in line prior to swearing in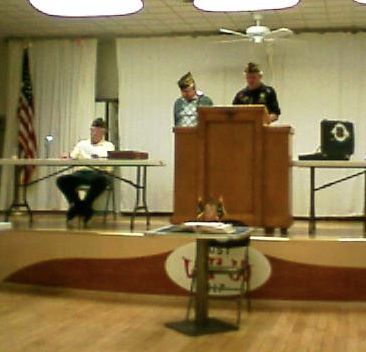 District 14 Commander, Jeff Hastings (at podium), begins the swearing-in ritual. Commander Bivens (standing, left) and Adjutant Wallace (seated)
Veteran's Day 2011
Upcoming events
News You Can Use!
Wreaths Across America

"Wreaths Across America"


To be killed in war is not the worst that can happen. To be lost is not the worst that can happen... to be forgotten is the worst." -Pierre Claeyssens (1909-2003). To see a list of current events for 2011 click
See More
Jeff Staley Poker Run 2011
July 23, 2011- The Post once again hosted the Jeff Staley Poker Run.
Special thanks to all who helped make this event a success!
Once again, VFW members, Ladies and Mens Auxiliary members pulled together to throw one heck of an event. Pictures of the event can be found on the
"Pictures and Videos"
page in this site.
Now on Facebook!

Comrades and friends, in another attempt to increase communication within the post and outside of the post, I am pleased to announce that Caseyville Memorial Post 1117 now has a presence on Facebook. In addition to this webpage and our new weblog, it is hopes that our Facebook page will not only increase camaraderie and communication for all post members, but also allow those around the world who may be interested in us a way to check out some of the good things our post does for veterans and our community. Please feel free to swing by the
weblog
or our new
Facebook
page to check things out and spread the word. Respects and take care out there. Tom
Webcom!
Our "sister" weblog is up and running. The weblog is an extension of our webpage and will allow us to expand our "footprint" on the web. The idea is to use the weblog as a front door, if you will, for anyone out in the world who would like to know more about the VFW or our Post. Instead of having to remember a long and confusing web address, a visitor only has to type in "Caseyville VFW" from any search engine and they will find us. You can find a link back to the Webcom site under the "Links" tab. Thanks and take care out there. Tom
Death benefit
Recently received info. there is an Illinois death benefit available for any Regular or Reserve soldiers killed in the line of duty since 09/11/2001, Operation Enduring Freedom or Operation Iraq. This is Illinois law # 820 ILCS 315, Hotline # 800.382.3000. Contct Commander, Service Officer or Adjunct for more info.
Auxiliary
Thanks to the Ladies and Mens Auliliary for your donations for snow removal. Let us know if we can help you.
Please, if you have ANY sevice related memorabilia for our display cabinets you are more than welcome to donate or loan it to the project.
Thanks, Jim
Flag placement for active Airman shot & killed
Assistance neede for placement of 1000 flags along the burial route for local Airman, one of two shot and killed recently in W. Germany. Contact Chip Schaefer 618.567.5315 Post 805 or go direct to Post @ 223 W.1st St @ 4:00 pm, Thursday, 03/10/11. Bring work gloves and appropriate clothing. Help will be needed Sat. 03/12/11 for take down, times not set to date.
Jim B
Remembering Our Fallen Comrade
It is with sincerest respect that I relate the passing of our Comrade, William "Bill" Skelton. As a relatively new member to Post 1117 and the Veterans of Foreign Wars, Bill welcomed me and embraced me as a comrade at arms. We shared a bond which literally stretched through the decades as Bill served in the Second Infantry Division during the Korean War. Some thirty-odd years later, I found myself also wearing the insignia of the Second Infantry Division as I patrolled the very land in which so many of our brave comrades fought and died.
"Second to None!", Comrade Skelton. Rest in Peace.
God, Bless Our Veterans!
Caseyville Post 1117 observed Veteran's Day on a beautiful fall day. We had about 20 people in attendance and the ceremony featured words from representatives of the Ladies and Men's Auxilliaries and the Post Commander. Special guests included the Mayor of Caseyville, the Honorable George Chance, and the Chief of Police, J.D. Roth, both adding to the observance with their respects to veterans. A special recitation from the Commander asknowledged that on this day, the body of Marine Ssgt. Jordan Emrick would be arriving at Mid America airport for the trip back to his home town of Hoyleton, IL. Ssgt.Emrick was killed by a road side bomb in Afghanistan.
After the observation, veterans, members and their guests retired to the post canteen for a hearty luncheon provided by members of the Ladies Auxilliary. The ladies really put on a good spread and there was good fellowship enjoyed by all. God, bless and keep safe our veterans at home and abroad.
Crusher Gets a Makeover!
From the left is Boy Scout,Jacob Baird, who took on the task of repainting the 105 Howitzer, displayed at VFW Post 1117 and sprucing up the landscaping in front of the building as an Eagle Scout Project. Along with Jacob are Nathan Arnold and Bill Amos, who were recruited to help on the project. More to come in the near future.
Job Well Done!
Sept. 20, 2010: Commander Bivens accepted a plaque from the Jeff Staley Safety Foundation on behalf of all of the members of Post 1117 for the foundation's recent "Jeff Staley Memorial Poker Run". The event was truly an "all post" event as VFW members, Ladies Auxiliary and Men's Auxiliary members all pitched in to ensure a successful and fitting tribute to Jeff Staley, a road construction worker killed by an inattentive driver.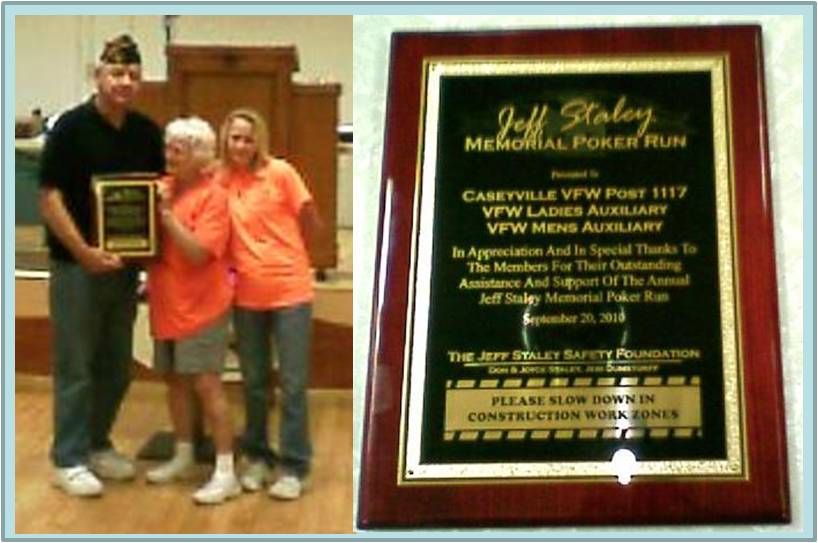 New Option for Marking Veterans' Graves in Private Cemeteries
The Department of Veterans Affairs is making available a new medallion to be affixed to an existing privately purchased headstone or marker to signify the deceased's status as a veteran.

If requested, the medallion will be furnished in lieu of a traditional Government headstone or marker for veterans that died on or after November 1, 1990, and whose grave is marked with a privately purchased headstone or marker.

The medallion is currently available in three sizes, 5 inches, 3 inches, and 1 ½ inches. Each medallion will be inscribed with the word VETERAN across the top and the Branch of Service at the bottom.
More information about the medallion and instructions for applying for a medallion can be found here: http://www.cem.va.gov/hm/hmtype.asp
Why a Post 1117 website?
The District 14 commander is encouraging all posts within the District to reach out and step into the 21st century. The Caseyville Memorial Post 1117 has heard the call and is stepping into the future. It is hoped that members of the post and its Men's and Ladies Auxilliary members will not only find the information contained here useful, but will contribute to its development. Afterall, the Post is here to not only serve our local veterans and community, but to serve YOU, the Member, Men's Auxilliary Member and Ladies Auxilliary Member. The foundation has been laid.
If you find something amiss, something forgotten, or have a comment or suggestion, please don't hesitate to contact your leadership. In turn, feel free to email me anytime directly. Thanks, Tom
Welcome!
Comrades and Guests, this site represents the first of what I am sure will be many additions and changes to our post's "web presence". This is YOUR site, so feel free to become a site member, post pictures and add to discussions.
To ALL of our Veterans, from those who stormed the beaches on D-Day and toiled in the mud and muck behind the lines to those forgotten on some un-named hill in Korea... To the men and women who gave their all in a small country called Vietnam, and those who stood the line on freedom's frontier during our Cold War... The brothers and sisters who served in Grenada and Panama and those who sacrificed so much liberating Kuwaitis in Desert Storm... And to our men and women warriors defending freedom and fighting tyranny during the Global War on Terror... To all of our named and unnamed Soldiers, Sailors, Marines, Air Force and Coast Guard, and to our 88,386 American Servicemen still Missing In Action I say, humbly and with sincerest respect "Thank You" for allowing me to live my life as a free man in the world's best country. ~Tom Clark
Never Forget
Don't Be Late!
10 For 10 A "NO GO"!
Related Pages
vfwpost1117
Cmdr's Corner
Ladies Auxiliary
Men's Auxiliary
VFW Riders
Milo's Grill
Calendar
Post Officers
Join The VFW!
Links
Pictures & Videos
Message Board
Rent Our Hall
Post 1117 Forum
Privacy Policy
Post 1117 Guest...
Caseyville Ceme...
12/10/2013 4:38:12 PM